Interested in
shared ownership

private sale

properties?

Click the switch below to see this developments shared ownership private sale details

Click to toggle
Prices:
Shared Ownership at The Restorey gives you the opportunity to buy a share of your new home, starting at 25%, or more depending on what you can afford. The rest is owned by Network Homes and you pay a subsidised rent on this portion in addition to your own mortgage. There will be a service charge payable to cover the cost of communal maintenance and this includes the buildings insurance
Priority will be given to people who live or work in the London boroughs of Ealing, Brent and Hammersmith & Fulham. 
Address:
Central Way
Park Royal
NW10
By appointment only!
Call 0300 373 3000 020 8579 5050 to arrange a viewing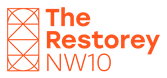 Launching Spring 2024.
New Shared Ownership homes coming soon in the heart of the unique Old Oak and Park Royal regeneration area, one of London's most vibrant districts. 
The Restorey will comprise of 134 one, two & three bedroom apartments plus three-bedroom duplexes. With the excellent amenities and connected central location, these homes are the ideal first step on the property ladder if you want your own space or your family is growing and you're ready to be part of this emerging community.
Park Royal station is approximately 20 minute's walk away (even quicker by bike) and provides access to King's Cross St Pancras. West Acton Station is a little further on and has services to Bond Street, Holborn, Tottenham Court Road, and London Liverpool Street.
Looks as if there are no properties for this ownership type