Demolition kick-starts the regeneration of the Ridgeway in East Hertfordshire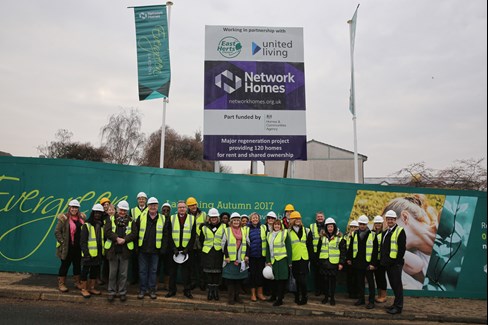 The New Year is looking bright for the Ridgeway in Sele Farm, East Herts, as Network Homes begins work to demolish and replace the poor-quality ageing buildings with 120 new affordable, modern, mixed tenure homes.
The £30 million regeneration project, which is part funded by East Herts Council and the Homes and Communities Agency (HCA), is due to be completed in 2018 and will include 70 new homes for affordable rent and 50 new homes for shared ownership. We will also create new roads, outdoor space and a play area for children.
The new homes and improved public realm have been designed by multi-award winning architects PCKO to modernise the layout and appearance of the estate. The new design is in keeping with the adjacent homes, providing a welcoming and safer environment for the residents who live there.
An event was held on 23 January to celebrate the start of demolition of the existing buildings on the estate. Helen Evans, Network Homes' Chief Executive, was joined by the Leader of East Herts Council Linda Haysey, Executive Member for Health and Wellbeing Cllr Eric Buckmaster and Councillors Patricia Moore, Peter Ruffles and Steve Cousins.  Also present were members of the local community, original Ridgeway tenants and Network Homes' development partners for the project, United Living. 
Helen Evans, Chief Executive, said: "This is an exciting project for Network Homes and a golden opportunity to transform an area that is in real need of investment.
"We're committed to providing good quality affordable homes for people in Hertfordshire and our regeneration of the Ridgeway will help create a vibrant and thriving community. Fifty of the new homes will be for affordable home ownership, giving local people an ideal opportunity to get on the property ladder".
Eric Buckmaster, Executive Member for Health and Wellbeing, said: "The council welcomes high quality affordable housing for East Herts residents and is working closely with Network Homes to help ensure the new development provides all the components for a successful and flourishing neighbourhood."
United Living Chief Operations Officer, Stuart Laird, said: "This project is far more than just an opportunity for regeneration through construction. We have developed a strong partnership with Network Homes and their ambitions align resolutely with our own in terms of providing quality, affordable housing stock that has the potential to change people's lives.  This mutual understanding will deliver a high standard of homes and transform The Ridgeway to create a lasting legacy for current and future residents".